Category Archives:
Kochen mit Herrn Nelson
Mmm. Die beste Tagessuppe in der Welt! Hast du Hunger?
Firstly, many thanks to all the viewers, subscribers, and people who made MyGermanClass.com a finalist in the 2007 Edublog Awards for Best Educational Use of Video/Visual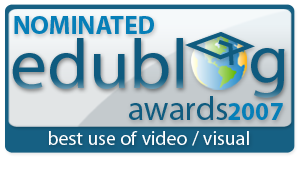 !
Your votes are much appreciated!!
Another announcement:
MGC University! You can now sign up for mini-courses which contain English/German scripts for videos, short quizzes, and discussions with other participants. Right now there is only a course for Übel Knübel, but more are coming up!
Click to Play
Kochen mit Herrn Nelson returns with another delectible dish that will impress your guests.
English
Hello class, and welcome. My name is Herr Nelson and this is cooking with Herr Nelson. I am hungry. It is early in the morning, and I have slept well. But now I am extremely hungry. I will eat cereal for breakfast.
So, what are the ingredients for today? We need: cereal, like HoneyCombs, milk, a banana, a bowl, a knife or a scissors, and you need a…no, not a fork, a spoon. You will eat cereal for breakfast.
Open the package. Pour some cereal in the bowl. Oops! You spill some cereal on the table. Oops! Pick it up. And put it in the bowl. Like this. Then close the cereal package. That's the cereal box. And take the banana and peel it. That is hard. So, peel the banana. This banana is not so good.
And cut the banana in slices. This banana is a little broken. A little broken. And, so. Cut the banana in slices in the cereal, either with the knife or with the scissors. Ah, the banana. The banana smells pretty good. And throw the banana peel in the trashcan. So, here is the trash can. And wash your hands. Dry your hands. Pour some milk on the cereal. Ah, very good. And take a spoon full of cereal and try it!
Wonderful. Try it again. So, try it. Chew it. Swallow. Swallow it. So, class. This breakfast is the best breakfast I have had in my life.
So, enjoy. Good morning, and that was cooking with Herr Nelson. So, goodbye!
http://mygermanclass.com > RSS Subscription Feed > Donate, tip, support!
Â
Click to Play
Click to Play
Click to Play
Click to Play
Learn German while cooking amazing food! Today we make a delicious and healthy drink which goes well with the sandwich we made in Episode 1…
Danke schön! MyGermanClass video podcast made the top 25 Educational podcasts on iTunes, thanks to all the subscribers! Please write an iTunes review, and leave comments on the site, if you will!
please visit mygermanclass.com for more info.
Click to Play
German cooking show! Well kind of… What will he make next?
Learn German with Herr Nelson as he shows you how to cook some of the most delicious and nutricious delights around.
Today we make a chocolate sandwich. See the HTML script to read along in English and German. The first in a series of about 13 videos.
To subscribe to the MyGermanClass video podcast: http://feeds.feedburner.com/mygermanclass/
For more info : http://mygermanclass.com
Â